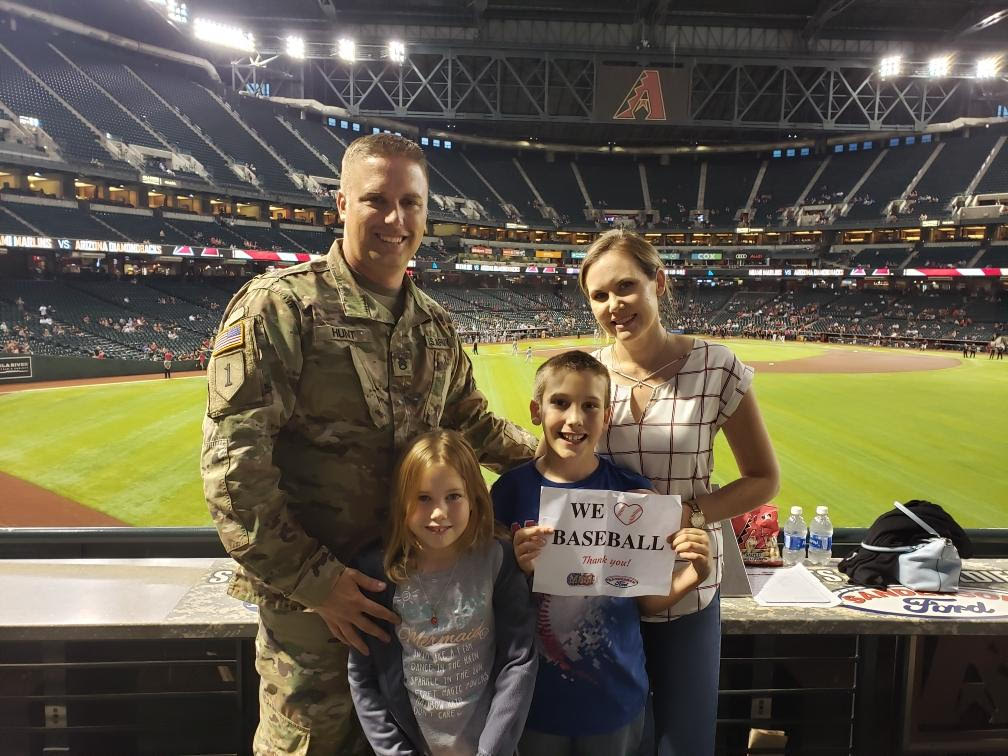 MAM and Sanderson Ford have partnered with the Arizona Diamondbacks to provide special seats for our Arizona military. The service member is selected and recognized
at the game. To qualify for this opportunity, a service member must be E-6 or below or
a post 9/11 Purple Heart recipient. We ask that those who have already received
Seats-For-Soldiers tickets, to allow others to enjoy the experience.
Please scroll down for available dates, as well as rules and regulations for requesting tickets
Once tickets become available to us, members of our ticket program will receive
notifications before anyone else!
All Arizona Diamondbacks games are filled. Please stay tuned for the 2020 season, beginning in March.
Please sign up for our ticket program to receive notification when more tickets become available. 
---
Rules and Regulations
Please read all rules before submitting your request
To submit a request, please email tickets@azmam.org with –
Your name, pay grade, rank, branch, phone number, email address, and game of choice (including date and teams playing)
Eligible Military Members must be active duty, National Guard or Reservist rank E-6 or below or Purple Heart recipients post 9/11
When choosing a game, please note:
The time given is first pitch. You are required to be in your seats 40 minutes prior to first pitch, and remain seated until recognition.
The purpose of this program is to recognize our service members, so being in your seat for recognition is vital.
Tickets are provided at no charge to service members on the condition that they must attend the game for which they are being provided tickets.
An email request for tickets does not constitute reservation for tickets. You must first receive a confirmation email from MAM of a reservation.
Tickets must be picked up at the MAM office
Phone calls will not be accepted to reserve ticket
Service member will be recognized during the game and their photo will appear on the jumbotron
Wearing of uniform is appreciated, check with your branch PAO for guidance
Each household may only attend one game per season
Upon pick up, you will be required to sign a waiver. You can preview this waiver HERE
Please submit questions to tickets@azmam.org
---
Seats for Soldiers 2019: