Life has a way of throwing us changes we never expect. I have been "redirected" again. I was honored to have such wonderful supporters of my son's legacy of supporting his brothers and sisters in arms. I have worked and volunteered with many organizations over the years, but helping the military has been the most heartwarming. I did not know that by helping a military family, that had just sustained serious injuries in an attack, I was being led to continue in my son's footsteps. When the calls came, I quickly realized there are so many that need help to make it through deployments and separations. I started Military Assistance Mission (MAM) because my passions are helping people in need and supporting our military. How fortunate I am that this position allows me to do both.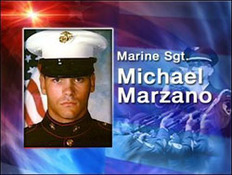 My personal history
I am a mother of 4 kids. Three of which live in Phoenix. My fourth, my oldest, Michael, lives in Heaven. His angel date is May 7th, 2005. He was serving his country in Iraq but was killed in an ambush by a suicide borne vehicle filled with IED's. Our world was forever changed on that Mother's day. But I wanted to continue what Michael had started and that was to serve his country and his fellow comrades. Michael would have wanted that and would be very proud of me. I feel his presence every second of every day and know that he carries me when the road seems so hard to walk in these grief shoes.
The VA Clinic in Hermitage, PA was dedicated and named after Michael on November 1st, 2008. Michael was the first one lost from Mercer County during OIF. This is a huge memorial and a bitter sweet honor. Michael has also helped in guiding me on the path to acknowledge all Gold Star families in Arizona by designing the Gold Star family license plate. He walked me through 2 years of speaking in front of our Arizona House and Senate and the DMV to approve the license plate design. This was an honor because it allowed the Vietnam Gold Star families to finally get the recognition of their loss. It was a different war in the US for families that received the knock on the door during Vietnam than it is for those of us from OIF and OEF. We have stepped up as a country in acknowledging our warriors. Michael would have liked that as his dad, Al, is a Marine and Vietnam Vet.
Military Assistance Mission allows me the opportunity to support not only Michael's fellow comrades overseas but to help with their families that are struggling at home. We are all one big family and until that service member can get home, we have to step up to the plate to support those that are left behind. Please help us by supporting Military Assistance Mission so that we can help those Arizona families. If you are an Arizona military family in need, contact us so that we can assist you during your time of need.
If you would like to donate in Michael's memory, please send a check to:
Military Assistance Mission
2950 N. 32nd St., Suite 200
Phoenix, AZ 85018
Make a note in the memo section for Michael. His legacy will go on. His love and support for his country, his fellow comrades and their families will continue with your help.
Thank you,

Margy Bons
CEO of Military Assistance Mission (MAM)
Proud Gold star mom of Sgt. Michael Marzano USMC who gave the ultimate sacrifice in Hadithah, Iraq 5/7/2005 Semper Fi